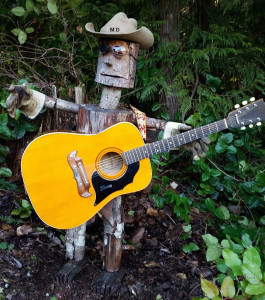 Mountain Dweller lives in the mountains on Vancouver Island, British Columbia, Canada.
Mountain Dweller's real name is Lester Lyrica Lostakski.  But he prefers to be called just MD.    His family arrived in Canada in the early 1900's from the small town of Lypovets (Ukrainian: Липовець.  His family settled on a small acreage in southern Manitoba and enjoyed a successful life farming.  Lester was born in the early 1950's and being the free spirit he was, chose to venture west which led him to eventually settle on Vancouver Island and specifically Mount Benson.
Being a very resourceful type fellow MD built himself a log cabin in the mountains and lived quite happily with nature and the forest animals.  He had been employed as a Security Guard, Consultant, Stock Photographer, Pilot and Private Investigator with various environmental type groups and government agencies.  His interest was always to keep our planet green by conserving and recycling so it's the best it's ever been. MD has five grandchildren which gives him inspiration to write songs and stories.
He lives with his multi talented, faithful companion dog "Nester."  He usually helps out with the cooking, cabin maintenance, security and is a gifted musician.
MD eventually formed a band with various creatures that lived in the mountains. They produced a number of videos and songs which could be heard on this site "Tunes".  One of MD's favourites was "Mountain Melodies".
His other interest was story writing, especially for families and children. He quite often co authored books with some of his other mountain friends and associates. Please check out the "Tales" section for details on all of MD's creations.
When MD isn't writing songs or stories he could be found hiking in the mountains, cutting firewood, doing renovations, pursuing his photography skills or juggling in his yard.