Well, it is another cool night up here in the mountains. Even in March it could dip as low as -10c and with a north wind blowing it feels like 20 below! We had to cut our band practice short tonight as it was getting windy and snow was beginning to fall. We usually practice outside on my deck as my cabin is too small for all the guys and their equipment.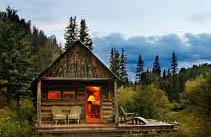 After everyone left I hauled in a little more firewood and stoked up the stove in the cabin. I fed Nester, my dog and he quickly fell asleep in front of the fire. I lit a candle and put it beside my bed so I could lay down and read.
Soon I could hear Nester snoring and the sound of wind and wet snow lapping up against my windows. I poured myself a cup of tea and imagined I was in the sunny south somewhere relaxing under a palm tree. I then opened my eyes, grabbed my guitar and began working on a chord sequence for a new song I was writing. I couldn't really concentrate though as I had two uninvited backup musicians helping. The sound of Nester snoring and the wind howling! I put my guitar away and got ready for bed.
The cabin was still quite warm from the stove. I crawled into bed, put on my sleeping hat and drifted off to sleep. At about 7:00am I woke up and peeked out the window and saw the sun slowly coming up over the foggy ocean.
I could smell something strange in the cabin. At first I thought it was Nester releasing some toxic odours, but then it smelt like something burning. I got out of bed, grabbed my walking stick and went outside. Nester suddenly jumped up and started barking loud and pointing to my head! I took a few steps next to my cabin and looked in the window at the reflection.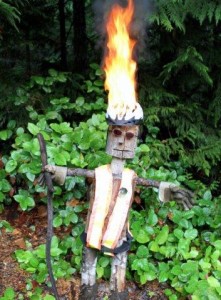 YIKES! My sleeping hat was on fire. I ran to the creek and dipped my head in the cool water and was instantly surrounded by a haze of smoke and ash. The top of my head was hot but not burnt too bad. I walked back up to the cabin and rubbed some medicine cream on my head to cool it. Nester walked by and looked at me with a silly grin.
I guess what happened was I forgot to blow the candle out that was beside my bed before I went to sleep. In the early morning I must have rolled over next to the candle and it lit my hat on fire.
Let this be a lesson to everyone! Always put out any open fires before going to sleep!  Anyways, no real harm done other than I need a new sleeping hat and Nester calls me a "Hot Head" from time to time.