Well Nester and I are finally back home. We heard it has been a very dry hot summer up here in the mountains. I was gone for about 3 months to Toronto for an advanced investigative techniques course and digital music enhancement training. Nester was gone about the same time down to Nashville where he was teaching dog dynamical voice lessons and a digital dog bone burying course. While he was down there he learned how to play the banjo. Our creek is just now starting to flow again and it is already mid November.
Anyways the rain has come and I am dressed accordingly in my raincoat and galoshes. For some folks who don't know galoshes are rubber boots.
I was out walking our trails the other day during a bit of a down pour. As I made my way up the side of a cliff I noticed the sun popping out between the clouds and believe it or not the rain had finally stopped. I thought I should head home now and dry off. I was just about to turn off onto my home bound trail when I met up with a cute young hiker named Elsa. She said she lived just below the mountain out in the country. She told me a few weeks ago her dad, her dog "Milly" and herself hiked right to the very top of Mount Benson. Elsa also mentioned that she used to have a turkey as a friend but then one day he disappeared and was never seen again. But now she has her dog Milly as a friend. She said she loves playing games and when she was really young liked to jump in her Jolly Jumper. Quite often just before bedtime she would look up at Mt Benson and the stars in the sky and it would make her tired and then she would always have a good big sleep.
Well we walked and talked together along the trails for awhile then Elsa said she had better be heading home now as it was getting late. The sun had now set behind the mountain and the temperature was falling fast. I made my way back to my cabin and could smell some good mountain stew that Nester was cooking. He usually puts in potatoes, carrots, onions, beans, corn, peas, barley, broccoli, cauliflower, parsnip, fennel, beets, turnips, and of course a good slug of garlic and other spices he concocts and finds up in the mountains.
Anyways that night I was strumming my guitar in front of the fire along with Nester as he was picking away on his new banjo. Then suddenly a melody and words popped into my head as I thought about Elsa the hiker I met earlier in the day. I grabbed my song writing pad and a pencil and jotted down some words and chords and before long a song was born. Nester caught on fast and worked out an intro and lead break on his banjo.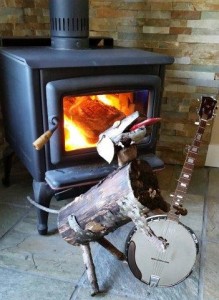 I called a couple of our band members to come over and they added the bass and rhythm. After about an hour it was done and I named it, "Elsa Louise Goodnight". You can listen to it by clicking on the title. It was now getting late and my band buddies left to go home and me and Nester headed for bed. Outside the wind was howling and inside Nester was snoring. I put my pillow over my head and drifted off to sleep.