Well, Nester and I have been working hard everyday doing our spring cleaning around the cabin and property. We cleaned the windows, trimmed the hedges and cut the grassy field out back. Oh yeah? Vegetable race?? We picked up broken branches and raked leaves off our network of trails. It seems like it is a non stop thing up here keeping nature from taking back the land.
After breakfast this morning I was wondering what we should do as it was another beautiful hot day in the making. Nester and I need a day off. The other members of my band won't be available for practice for a few days.
Just then there was a knock at the door. Nester ran and opened the door. It was Fred Fezzo from the Ministry of Forests. He has a cabin near the top of the mountain where he does research and experimental silviculture projects. He said he was coming down to the city to pick up supplies and was wondering if Nester and I would like to come along? We both said Yes! as we needed a break and it would be nice to visit the city and maybe find somewhere different to enjoy the hot sunny weather for a change.
We all piled into Fred's truck and we were off. Fred mentioned that he was heading to a research lab near the ocean and asked if Nester and I would like to get dropped off and spend the afternoon at the beach. We both agreed that would be a great idea. We stopped at a grocery store, got a few things for lunch and then Fred let us out at a beautiful sandy beach. He said he would pick us up later in the afternoon.
Wow, said Nester, the tide was out and there were miles of soft warm sand. Nester took off running as fast as he could across the sand and splashing through warm little puddles of sea water. Sea gulls and herons were everywhere gliding around on the warm wind and looking for food in amongst the rocks. Nester started chasing them and then they chased Nester. Everyone was having fun in the sun.
Seeing the tide was out so far, I decided to walk out on the sand and set up a blanket to lie on and catch a few rays of the sun. I put my hat down over my eyes and closed my eyes. Last thing I heard was Nester barking and yelling at the birds and the birds squawking back. The crash of the waves far out on the sand and the warm gentle breeze put me into a deep sleep.
I dreamt I was at a spa having a warm massage in a sauna. Then it felt like hot warm towels were being wrapped around me to keep me relaxed and warm. All my body and muscles felt like, like, like, like!! I was covered in sand! Yikes! I suddenly woke up and I was buried in sand! The tide had come in and was almost about to wash me away! I must have slept for hours! I couldn't move because of all the heavy sand on me. I raised my head up a bit and looked around.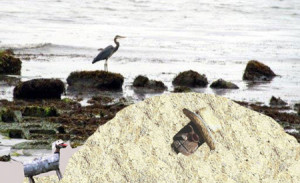 Then I saw Nester laughing and laughing along with a Heron and some Sea Gulls. It appears Nester buried me in sand while I was sleeping as a joke. Then I had a bit of a laugh too.
Nester came over jumped on top of the pile and began to dig me out. I managed to finally get free of the sand, wash off a bit and made my way to the shore, as now the tide was really coming in fast.
Just then Fred arrived and was ready to take us back home. He yelled, Hey Nester, is that your new friend, "Sandy" ha, ha, ha? Lester still had sand on his hat, in his hair and all over his body. Nester and Fred jumped in the truck and I politely agreed to ride back home in the box of the pickup truck to keep the excess sand out of Fred's truck.
I could hear Fred and Nester giggle as they looked in the rear view mirror and could see me still brushing off all the sand.
Soon we arrived back home. Nester invited Fred in for a coffee but he said he had to get home and back to work. Nester and I waved as Fred drove out of sight.
Nester then sprayed me down with the outside garden hose. I then went inside and had a nice warm shower. Just before I went into the shower I hollered out to Nester, hey funny boy what's for supper? Nester, smiled and said, how about Sand wiches? I slammed the shower door. The rest of the night was very quiet.