Well spring has finally come to the mountains up here! The leaves are coming out and the wild flowers are sprouting. There is a warm wind blowing and the creek is roaring from the last of the melting snow off the top of the mountain.
The deer, rabbits and other critters up here are dashing around looking for new growing food and places to play. Even my trusty dog Nester is looking and feeling recharged with the coming of spring. Everyone seems to be in a good mood. Maybe too good a mood and too full of energy?
Over the last few weeks Nester has been acting a little weird, especially at night when I am sleeping. He usually sleeps on his mat by the front door just across from the stove. But, now he continually wakes me up in the night or early morning hours by singing in his sleep! Not only singing, but sometimes he jumps up on the kitchen table with a cereal bowl on his head, holding a large spoon as it was a microphone while dancing furiously. After a few minutes of his performance I suggested he goes back to bed, which he does with a very sheepish grin.
On other occasions he taps out a song melody with a piece of kindling on his teeth. Weird or what? One night he got up, had a shower made him self a cup of tea and read a book for a few hours with all the lights on. I didn't get any sleep that night.
I had a good talk with him this morning about his night time antics. We both agreed it can't go on anymore as I need my sleep and now maybe he needs more independence. Well we came to a solution. I would build him his own bedroom just off the kitchen area. Then he could wake up when ever, have a quiet snack and even dance around and sing in his own bedroom with out disturbing me.
Well the next day I headed down the mountain in Gord (my friend the ATV) and got a load of lumber and other items to build Nester's new bedroom.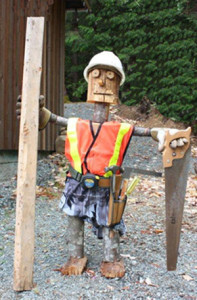 Over the next few days with Nester's help we extended the north end of the cabin and created a nice size bedroom. We even installed a full sized sliding patio door to give him access outside so he wouldn't have to disturb me if he had to go outside while I was still sleeping.
I made a few pieces of log furniture for him, including a bed and he moved in his sleeping mat and placed it inside. It looked nice and cozy! I told him I had one more little surprise for him but he had to wait outside for a minute. I made a little sign to hang just above his bedroom door. The sign read: "Nester's Nest". Then I called him in. He ran into his room, jumped in the bed, gave me a big smelly, sloppy lick on the face and said, "Thanks, I love my Nest!"