Stories for kids and families about children, animals, mystical creatures and adventures. Perfect for toddlers, pre-schoolers and school age children.
One hot summer evening a young girl was having difficulty falling asleep.  As she laid in bed her mind and imagination was running wild!  Soon she discovered that her bed can fly.  She ran into her sister's room and told  her about the discovery. Then both girls set out into the night time sky to explore fantasy lands they find in amongst the stars and planets.
Two young girls embark on a trip to the moon on their amazing magical flying bed. They encounter mystical characters along the way. Once landing on the moon they narrowly escape from a dangerous event that suddenly occurs. Upon arriving back home their mother has some serious questions for the young adventurers.
A gust of wind blows into young Hannah's bedroom. The wind comes alive and befriends her. The wind named Winnie explains the many duties and tasks it is required to do in a single day or night.
A group of four good friends gather together to celebrate the end of Summer. They camp out overnight on a beautiful sandy beach along the coast of Vancouver Island. They all have a great time partying and visiting with each other. Then the good times turn into a serious tragic circumstance in which the four friends must quickly act together to prevent wide spread devastation.
During a winter storm an injured bird seeks help and safety in a young child's bedroom. The child tends to the bird's injury and nurses it back to good health. They become best friends. Eventually the bird leaves to join its flying friends and family. Many years later this child is involved in a dramatic event in which an old friend comes to the rescue.
Four young girls go to the beach for a picnic on a cold November afternoon. They meet up with two old friends who help bring summer like conditions to their picnic. They are introduced to two mystical sunlets who teach them about the sun.
Two young children are playing on the beach after a wind storm the night before. They are collecting all sorts of interesting stuff that had been washed up onto the sandy beach. To their surprise they find something buried under the sand that asks for their help and assistance. Once rescuing this creature their wild ocean adventure begins.
Two young girls are enjoying a sunny spring day as they row across a beautiful calm lake. They decide to stop and have a picnic lunch in a private little cove. Just prior to eating their lunch a handsome young prince appears out of the woods mounted on a white horse. The girls are a little frightened yet excited as their adventure of a lifetime is about to begin.
Elsa is up late at night working on her book report for school in the morning.  She is very tired. Is she dreaming or not that her computer comes alive with
mysterious key board people offering to assist her.
Young Kayley is playing in her backyard when a brief rain shower occurs. A rain drop lands on her and comes alive. This rain drop called Dripley relates how he was created and the adventures he faces on a daily basis.
A child is about to have a spoonful of blueberries with her breakfast when suddenly she hears a blueberry yelling for help. She puts her spoon down and one blueberry identifies himself as Blueberry Bob. Bob then tells his adventure story of how he ended up getting onto her spoon.
Two young girls are enjoying a picnic in their backyard on a hot sunny summer day. Suddenly their sandwiches and cookies mysteriously began disappearing. They eventually solve the case of the missing food. The culprit, feeling a little guilty offers to take them on a magical underground tunneling adventure.
A little puppy living in a peaceful home up in the mountains becomes bored with his current living conditions. He is looking for excitement and action that he thinks moving to a big city would bring. He sneaks out of his secure environment and runs off to experience a city adventure. He does find excitement and action, but not the kind he was looking for.
Dexter lives in the mountains with his mother.  He has always dreamed of being a musician and song writer.  One night his wish comes true and he creates a great song with the help of some mystical mountain creatures.
Two young girls want to bring smiles and happiness to some kids in a Children's Hospital. They devise a plan and idea on how to take them out of the hospital for a few hours to fulfill their wildest wishes! It is truly an out of world exciting experience for all involved. Their destination and mode of travel is absolutely unique and unbelievable.
Mischievous Happy go lucky Milly
is forced to make a major change
in her attitude and demeanor in
order to prevent devastating
consequences to her family.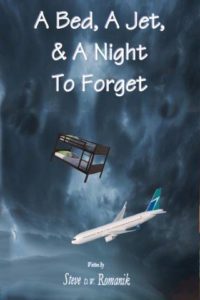 A Jet makes an emergency landing in the Ocean.The pilot and 6 passengers survive the landing but now await their fate on a sinking plane hoping for a rescue in a snow storm. What happens next is truly unbelievable.
A couple set off for a relaxing holiday at a water front luxury cabin on beautiful Vancouver Island, British Columbia. Their plans change drastically when the ocean has other things in mind for them!
(This story may not be appropriate for younger children, under 6 years?)
Did you ever wonder what really goes on inside a Hen House once the door is closed and the chickens are all secure inside?  Also read the story and you will be the first to learn about an unbelievable feathery flight!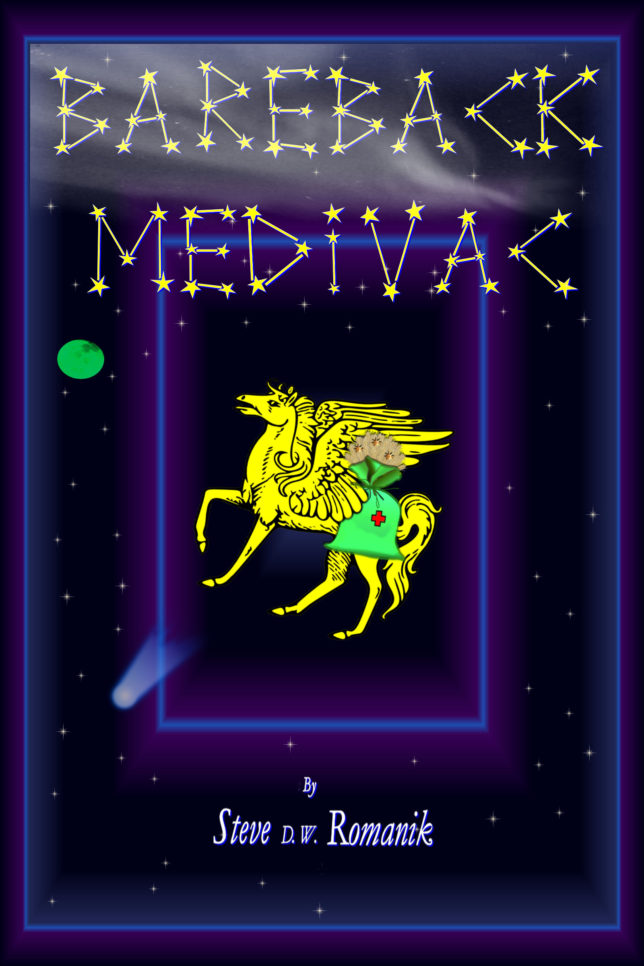 A tired, lost, flying Medivac Horse arrives early one morning at a house on Vancouver Island desperately seeking help. A young girl, Kamma, offers her assistance and suggestions on how the Medivac Horse could complete his life saving mission. With the additional help from a cousin and her Flying Bed the three travel through the universe in search of the sick horses that live on Pasture Planet.